bron
The Low Countries. Jaargang 17. Stichting Ons Erfdeel, Rekkem 2009
codering
DBNL-TEI 1
Wijze van coderen: standaard
dbnl-nr _low001200901_01
logboek
- 2016-04-29 CB colofon toegevoegd
verantwoording
gebruikt exemplaar
eigen exemplaar DBNL
algemene opmerkingen
Dit bestand biedt, behoudens een aantal hierna te noemen ingrepen, een diplomatische weergave van The Low Countries. Jaargang 17 uit 2009.

De Digitale Bibliotheek voor de Nederlandse Letteren beijvert zich voor het verkrijgen van toestemming van alle rechthebbenden; eenieder die meent enig recht te kunnen doen gelden op in dit tijdschrift opgenomen bijdragen, wordt verzocht dit onverwijld aan ons te melden (dbnl.auteursrecht@kb.nl).
redactionele ingrepen
De eindnoten zijn in deze digitale editie direct bij de bijbehorende nootverwijzingen geplaatst. De volgende pagina's zijn hierdoor komen te vervallen: 51, 135.
p. 85: noot 9 heeft geen nootverwijzing in de tekst en is daarom door de redactie onderaan de pagina geplaatst.
Bij de omzetting van de gebruikte bron naar deze publicatie in de dbnl is een aantal delen van de tekst niet overgenomen. Hieronder volgen de tekstgedeelten die wel in het origineel voorkomen maar hier uit de lopende tekst zijn weggelaten. Ook de blanco pagina's (binnenkant voorplat, binnenkant achterplat) en pagina met advertenties (319) is niet opgenomen in de lopende tekst.
[pagina voorplat]
TLC
The Low Countries
arts and society in flanders and the netherlands
[pagina 1]
The Low Countries
[pagina 2]
TLC
2009
The Low Countries
ARTS AND SOCIETY IN FLANDERS AND THE NETHERLANDS

[pagina 3]
17
Published by the Flemish-Netherlands Association
Ons Erfdeel vzw

[pagina 4]
Editorial Board
Chief Editor:
Luc Devoldere
Deputy Editors:
Dirk Van Assche
Frits Niessen
Reinier Salverda
Secretary:
Filip Matthijs
Members:
Saskia Bak
Derek Blyth
Tom Christiaens
Anton Korteweg
Bart Van der Straeten
Hans Vanacker
Advisory Committee
André Brink, Cape Town, South Africa
Christopher Brown, Oxford, United Kingdom
Bram Buijze, The Hague, The Netherlands
Ian Buruma, London, United Kingdom
Patricia Carson, Ghent, Belgium
Jan Deloof, Zwevegem, Belgium
Theo D'haen, Leuven, Belgium
Bruce C. Donaldson, Melbourne, Australia
Charles Ford, London, United Kingdom
Amy Golahny, Williamsport,

pa, usa
Jaap Harskamp, London, United Kingdom
Adrian van den Hoven, Windsor, Ontario, Canada
Jonathan Israel, Princeton,

nj, usa
Frank Ligtvoet, New York,

ny, usa
Gitta Luiten, Amsterdam, The Netherlands
Martin Mooij, Capelle a / d IJssel, The Netherlands
Gary Schwartz, Maarssen, The Netherlands
Paul R. Sellin, Los Angeles,

ca, usa
William Z. Shetter, Bloomington,

in, usa
Johan P. Snapper, Berkeley,

ca, usa
Kees Snoek, Rotterdam, The Netherlands
Paul Vincent, London, United Kingdom
Leo Vroman, Fort Worth,

tx, usa
Rudi Wester, Paris, France
John Willemse, Pretoria, South Africa
Michael J. Wintle, Amsterdam, The Netherlands
Manfred Wolf, San Francisco,

ca, usa
Joanna Woodall, London, United Kingdom
[pagina 5]
Contents
Comfortable Discontent? A Sense of Well-Being
11
Luc Devoldere
12
Anton Korteweg
In Good Time
(A Poem)
14
Bart Dirks
The Antidote to Disaffection Social Cohesion in Flanders
28
Ger Groot
Out of Utopia? Hans Achterhuis on Welfare and Happiness An Extract from 'The Legacy of Utopia' by Hans Achterhuis
37
Tom Naegels
Individual, but not Egoistical Social Cohesion in the Netherlands
52
Maria Bouverne-De Bie
A Question of Caring? Population Ageing in Flanders and the Netherlands
60
Mieke van der Wal
Good Taste and Domestic Bliss Art, Home and Well-Being around 1900
70
Marieke van Rooy
From Squalor to 'Beauty' The Dutch Approach to Deprived Areas
78
Wilco Tuinebreijer, Chinazo Cunningham and Nancy Sohler
Urban Health: A Tale of Two Cities
New York Became what Amsterdam once Was
86
Lisa Bradshaw
Healing in Geel
[pagina 6]
93
Filip Matthijs
The Trivial Pursuit of Happiness
102
Anton Korteweg
Doing Extremely Well
(A Poem)
104
Pieter Leroy
Cultured Nature and Naturalised Culture The Veluwe from 1908 to the Present Day
114
David Stroband
Beneath the City Streets, the Beach The Ideas and Work of Louis Le Roy
122
Peter A. Douglas
Unveiling Dutch America The New Netherland Project
136
Mark Cloostermans
A Guided Tour of the Gilded Cage Jan Van Loy Takes the Reader by the Ear An Extract from 'Alpha America' by Jan Van Loy
147
Emile Wennekes
How the Form Forms Itself
Recent Developments in the Work of Composer JacobTV
152
Karin Wolfs
Interviews with the Dead Heddy Honigmann: Memory Made Visible
159
Anne-Marie Poels
Walking as an Art Form The Work of Francis Alÿs
166
Rudy Hodel
Constant: The End of the Avant-Garde
172
Annemie Leysen
Between the Lines of the World Klaas Verplancke, an Illustrator with Passion
178
Joke Linders
The Tale of a Frog Max Velthuijs, an Artist with More than One Talent
[pagina 7]
184
Lut Missinne
The Monk and the Samurai On the Work of Tommy Wieringa With an Extract from 'I have never been to Isfahan'
by Tommy Wieringa
195
Derek Blyth
Hasselt: The Taste of the City
203
Cyrille Offermans
Remco Campert and the Dubious Lightness of Being
With an Extract from 'Life is Luverly' and Five Poems by Remco Campert
218
Jeroen Dewulf
The Last Belgians? The German-Speaking Community in Belgium
227
Marc Hooghe and Luc Huyse
From Armed Peace to Permanent Crisis
Cracks in the Belgian Consultative Model
234
Dieter De Clercq
UNStudio: Architecture between Art and Airport
240
Johan Thielemans
The Battle for Quality The Strange Career of Gerard Mortier
247
Jenny Graham
Portrait of the Artist as a Posthumous Work in Progress
Van Eyck and the Politics of Posterity
255
Anneleen Decoux
The Pen that Circumscribes a Being A Portrait of Erik Spinoy With Four Poems by Erik Spinoy
263
Jellichje Reijnders
Staring through the Surface at an Elusive Truth
Viviane Sassen's Sense of Image
[pagina 8]
Chronicle
Architecture
272
Hans Ibelings
American Dreams
Frank Lloyd Wright and the Netherlands
Film and Theatre
273
Ton Gloudemans
New Opportunities, New Freedoms
Dutch Animated Film and the Digital Image Culture
276
Erik Martens
Flemish Popular Film: from Cut Loose to Loft
279
Wijbrand Schaap
Away from the Dutch Clay
Alize Zandwijk's Theatre
History
282
Lucas Ligtenberg
The First Replica of the Halve Maen
283
Roelof van Gelder
In Love with the Neighbours Opposite
Lisa Jardine's Enthusiasm for the Seventeenth-Century Dutch Republic
285
Romain Van Eenoo
Birth of a Nation
Belgium and the Treaty of London
287
Mirjam van Veen
A Calvinist Country?
Language
290
Lucas Ligtenberg
Sojourner Truth was once Isabella Van Wagenen
Dutch Culture and Language among African-Americans
Literature
292
Thomas Möhlmann
Awater in the UK
Martinus Nijhoff's First English volume
294
Daan Cartens
The Father of Angels
A Novel by Stefan Brijs
Music
296
Simon Van Damme
Wayward Authenticity
Paul Van Nevel, Musician and Expert in the Art of Living
[pagina 9]
Philosophy and Science
298
Rob Hartmans
Learning to Live with Uncertainty
A Portrait of Abram de Swaan
301
Dirk van Delft
Robbert Dijkgraaf: a Mathematical Physicist Throws the Windows Wide Open
302
Guido Vanheeswijck
The Idiosyncratic Philosophy of Herman De Dijn
Society
304
Gerald de Hemptinne
Herman Van Rompuy Succeeds Yves Leterme
305
Christiaan Berendsen
The Fortis Saga
307
Marc Hooghe
Belgian Society and Politics
308
Dorien Kouijzer
'Pauper Paradise': the Dutch
Re-education Laboratory
Visual Arts
310
Frank van der Ploeg
Mark Manders: Artist under the Table
312
Lisa Bradshaw
Crazy for Art
The Dr Guislain Museum of Psychiatry
313
Marc Dubois
A Hundred Years of Dutch Design
316
Contributors
317
Translators
318
Colophon
[pagina 318]
Colophon
Association
This seventeenth yearbook is published by the Flemish-Netherlands Association 'Ons Erfdeel vzw', with the support of the Dutch Ministry of Education, Culture and Science (The Hague), the Flemish Ministry of Culture (Brussels) and the Provinces of West and East Flanders. The Association 'Ons Erfdeel vzw' also publishes the Dutch-language periodical Ons Erfdeel and the French-language periodical Septentrion.
Arts, lettres et culture de Flandre et des Pays-Bas, the bilingual yearbook De Franse Nederlanden - Les Pays-Bas Français and a series of books in several languages covering various aspects of the culture of the Low Countries.
The Board of Directors of 'Ons Erfdeel vzw'
President:
Herman Balthazar
Managing Director:
Luc Devoldere
Directors:
Greetje van den Bergh
Marcel Cockaerts
Jan Desmyter
Bert De Graeve
Mark Leysen
Cecile Maeyaert-Cambien
Frits van Oostrom
Adriaan van der Staay
Ludo Verhoeven
Honorary President:
Philip Houben
Address of the Editorial Board and the Administration
'Ons Erfdeel vzw', Murissonstraat 260, 8930 Rekkem, Flanders, Belgium
T +32 56 41 12 01, F +32 56 41 47 07
www.onserfdeel.be, www.onserfdeel.nl
thelowcountries.blogspot.com
VAT BE 0410.723.635
Bernard Viaene Head of Administration
Adinda Houttekier Administrative Secretary
Aims
With The Low Countries, a yearbook founded by Jozef Deleu (Chief Editor from 1993 until 2002), the editors and publisher aim to present to the world the culture and society of the Dutch-speaking area which embraces both the Netherlands and also Flanders, the northern part of Belgium.
The articles in this yearbook survey the living, contemporary culture of the Low Countries as well as their cultural heritage. In its words and pictures The Low Countries provides information about literature and the arts, but also about broad social and historical developments in Flanders and the Netherlands.
The culture of Flanders and the Netherlands is not an isolated phenomenon; its development over the centuries has been one of continuous interaction with the outside world. In consequence the yearbook also pays due attention to the centuries-old continuing cultural interplay between the Low Countries and the world beyond their borders.
By drawing attention to the diversity, vitality and international dimension of the culture of Flanders and the Netherlands, The Low Countries hopes to contribute to a lively dialogue between differing cultures.
ISSN 0779-5815
ISBN 978-90-79705-00-9
Statutory deposit no. D/2009/3006/1
NUR 612
Copyright © 2009 'Ons Erfdeel vzw'
Printed by Die Keure, Bruges, Flanders, Belgium
Design by Luc De Meyer (Die Keure)
All rights reserved. No-part-of this publication may be reproduced in any form without the prior permission of the copyright holder.
[pagina 320]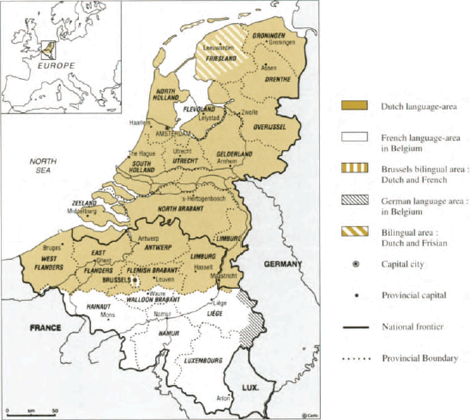 [pagina buitenkant achterplat]
The Low Countries arts and society in flanders and the netherlands